This litter was sired by Opus also of Askari Bengals and were born on May28, 06
June 18, 06
The boys are 3 weeks old. Wide eyed, they are beginning to wash themselves, play together and are answering meu when spoken to.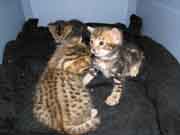 July 9,06
These adorable little ones are 6 weeks old. They are becoming more coordinated and adventuresome. The play area has expanded again with yet higher walls!
July 11, 06
Cute as can be awake or finding a quiet moment for napping. While still one can see their patterns are developing very nicely.
September 4, 06
It seems the entire feline family is enjoying the last hurrah of the holiday!
September 21, 06
This beautiful boy helps out whenever possible. Water activities are so much fun!

He has great markings and a wonderful personality.
Mia's first litter was sired by JayAr, a highly regarded stud who lives in western Massachusetts. He is from Askari Bengals, owned and operated by Karen Shaw.
JayAr, a Brown Spotted, is a sweet and gentle boy. His owner was curious to know if JayAr had the recessive marble gene and hoped to see a marble kitten from Mia's litter. Unfortunately, the gene did not express itself in this litter. But this makes the kittens no less beautiful...
Two months later Mia gave birth to 4 Brown Spotted kittens born at 2:00 AM. Cats and kittens have no sense of time! Mia announced the impending delivery and wanted help and comfort from my daughter and me. The kittens were cute even that night.
Mia proved to be a devoted and patient mom and hardly left their side. I fed her meals in bed for the first day or two. She was exhausted but unlike her kids she could not master eating and sleeping at the same time!
Mia enjoyed all the attention she and her kittens received. She allowed us to handle the kittens from the first day. It seemed she understood the importance of socialization. The kittens grew quickly......
Some days it seemed they were growing by the hour! And they kept getting more adventurous all the time. When they started scaling the enclosure keeping them safe, I knew we were on the brink of a new era; kittens everywhere. They soon grew big enough to be safely and fully integrated into our household.