Cookie is a 3 year old female Bengal who is a sweetheart with both adults and children, and very typical Bengal behavior- social and helpful with everything! Her previous owner could not keep her and surrendered her to their vet to foster and potentially keep. Unfortunately Cookie is not the best match in this household where there are 5 other kitties.
Cookie is a special needs cat because her previous family kept her mostly outdoors and she sustained a severe right front leg injury at just a year old and subsequently had a full leg amputation. The family continued to allow her outside and her remaining left front leg has suffered more wear and tear than expected as well as other temporary injuries. Aside from her limb issues she is now in good health.
Cookie must be an INDOOR ONLY kitty going forward. She would likely do will with a cat friendly dog or perhaps 1 playful kitty. The family would need to understand that her left leg will continue to deteriorate and she will have mobility and medical needs/expenses in the future.
March 2010
Mia is adjusting well and enjoying her new home.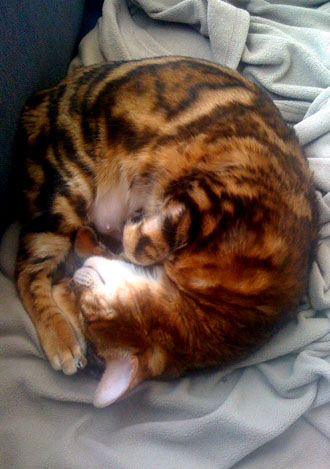 Hi Denise,
We wanted to take a moment to let you know how our new roommate, Mia, is transitioning. She's been doing so well. She's still spending a lot of time exploring and understanding the lay of the land here. She's made the place her own, of course. She's particularly fond of the living room and is quickly becoming a fixture on the corner of the couch--I think it's a good vantage point to see what's going on. She's very friendly with us and playful. She's been eating and drinking well. She's still very aware of all the noises, but she really seems very very comfortable with the environment and with us. We're absolutely loving having her here and want to thank you again for raising such a lovely little lady!
Best wishes,
Simone & Scott