Sophie is a Mink Snow Spotted Bengal who will be 3 in mid-December. She is a sweet, loving, playful and interactive girl with a sensitive tender soul. Sophie would do best as the only pet until she has settled in. Adding a kitten later, with proper introduction, would work. She would also be best suited in a calmer household with adults and perhaps older children. Please call for more information. 617-821-7223
Nala retired from breeding and found her new home.
March 2010
Mia is adjusting well and enjoying her new home.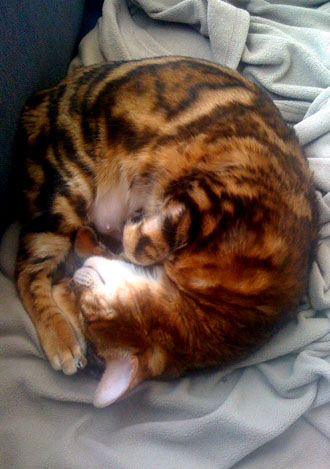 Hi Denise,
We wanted to take a moment to let you know how our new roommate, Mia, is transitioning. She's been doing so well. She's still spending a lot of time exploring and understanding the lay of the land here. She's made the place her own, of course. She's particularly fond of the living room and is quickly becoming a fixture on the corner of the couch--I think it's a good vantage point to see what's going on. She's very friendly with us and playful. She's been eating and drinking well. She's still very aware of all the noises, but she really seems very very comfortable with the environment and with us. We're absolutely loving having her here and want to thank you again for raising such a lovely little lady!
Best wishes,
Simone & Scott